Smart City: Citizen participation within a municipal waste concept
What if, as a pedestrian, you could tell the municipality with just a few clicks on your phone that an overfilled rubbish bin needs to be emptied?
Citizen interaction
Citizens report full rubbish bins as they encounter them.
This is done simply by scanning a QR code on the bin.
The municipality can efficiently plan its emptying route.
You don't need a special app.
Citizens feel their needs are taken seriously, and enjoy participating in the digital city.

Using the markers on the various objects within a city, a citizen can quickly and easily interact with items in his community.
With the digital twins of Cloud Item, the digital city becomes a reality.
This works not only with the example of the smart rubbish bin concept, but wherever an exchange of information between the municipality and the citizen brings real benefits, and thus added value.
Further examples:
Real-time data for the search for parking spaces, or the use of public transport.
local weather data.
Opening hours and waiting area information for municipal facilities.
Water levels of rivers and lakes.
B2B example: Agricultural land
The digital twin receives the necessary data (see below) via various channels. Numerous reports can be displayed via the monitoring app.
Input data

Field size
Field crop used
Costs (seed, fertilizer etc.)
Area reports from previous years
Product information
Regional information
Machine expenditure
Current invoices
Crop generated
Personnel workload
Temperature data of the field
Weather events (storm, rain, hail etc.)
Humidity data
Fertilisation status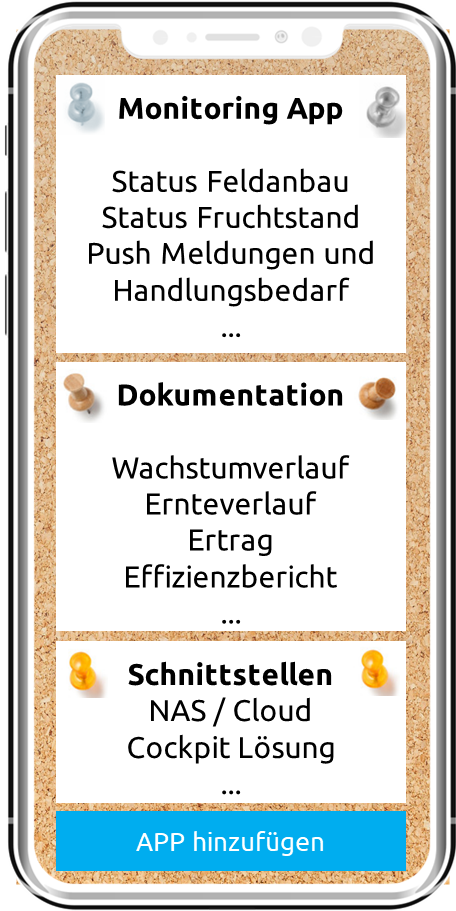 With a modular system, necessary data connections for documents, product data and sensor data (temperature, GPS position etc.) can be selected.
The result is an individually configurable, scalable digital twin that links products and their data, as well as supporting information, all in once place.
The digital twins created run on Web services.
Cloud Item offers interfaces to PPS, ERP and others.
There is a monitoring capability based on apps or the desktop, and the possibility to generate formatted reports, alarms and automated recommendations for action.
B2B example: Product-side plagiarism protection as a digital twin
The digital twin receives the necessary data for product authentication via RFID technology built into the product. Further information about the object becomes part of the digital twin.
Input data

Product information
Batch numbers
Product image
Product colour
Internal product code
Dimensions
Time of delivery
Place of manufacture
Delivery information
Current invoices
Intermediary information
Freight forwarder
…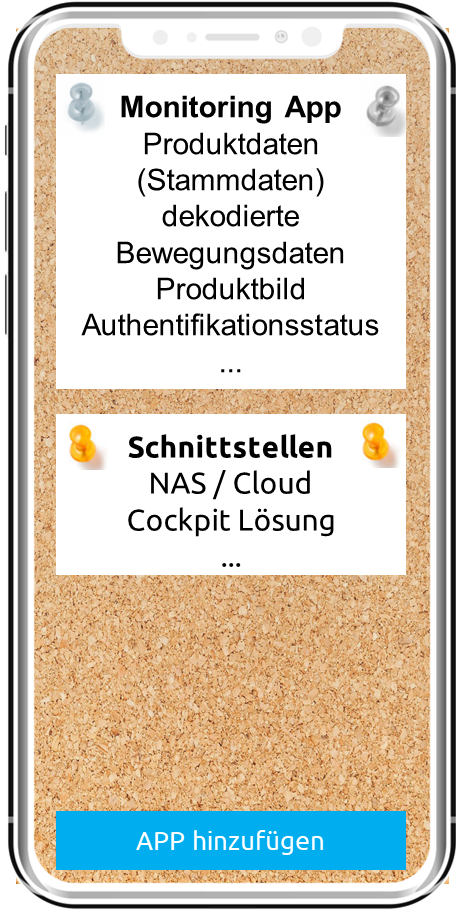 Micro RFID technology is used to apply a seal of authenticity to a product in the form of near-invisible chips. These RFID tags are coded by the customer before being applied.
Through this process, the origin of a product gets encrypted and verified.
Ingredients or materials, place of manufacture, production period and the methods of production used are thereby unambiguously determinable.
Intermediaries, consumers and producers benefit from added value through this process.
Cloud Item offers interfaces to PPS, ERP and others.