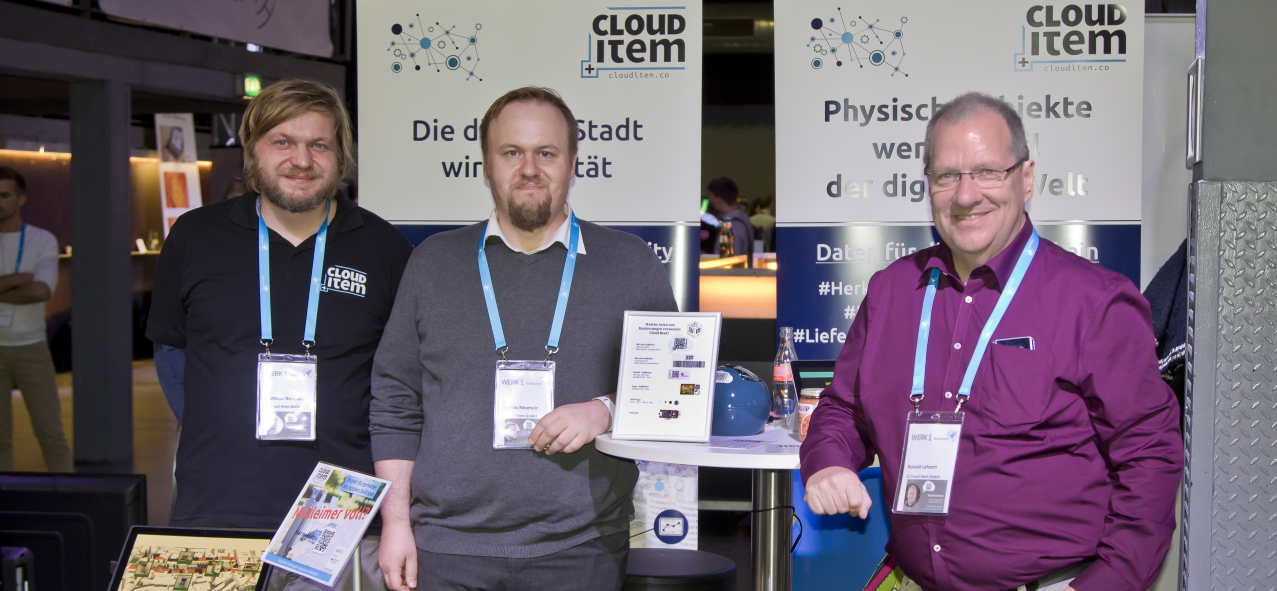 Preparation:
First of all the usual great organization on the side of BayStartup is to be praised. In order to generate the maximum economic success for our company and our products, it was important to get as many interested persons as possible to our exhibition stand. We decided to present two practical customer solutions:
On the one hand there is the "Smart Waste" concept within the framework of the digital city. green spaces and parks this as a real template for our digital twin. in the example presented, individual waste containers can be reported as "full" so that the local administration can follow a fitting emptying route.
on the other hand, we have simulated a production charge in a digital twin. The goods were marked using RFID technology.  In the corresponding digital twin, the relevant data such as its origin, food certificates, delivery dates and proof of authenticity are linked. Thus, the information about a charge is always present in the digital twin.
The fair itself:
Andreas, Ronald and Matthias were responsible for the exhibition stand. That we planned this as a team of three was a good decision. Almost the entire time we were active in discussions, presented the solutions and pitched directly as the company. The interested persons came to us with different backgrounds. These were, for example, start-ups who could well see cooperation on individual products. Also entrepreneurs or employees from companies came to us to use our products. Last but not least, several business angels have also expressed a potential entrepreneurial interest.
Follow up:
The many new contacts made at the fair now expect activities from us as a company. Depending on the level of interest shown, these may include professional meetings, sales offers for the use of our digital twins or feedback talks on possible cooperation at various levels. We will be working in this area for some time yet. This is work that we enjoy doing.